To the Point
Check your Marriott Bonvoy account everyone! Marriott Bonvoy has just matched 50% of your current 2019 Elite Status qualifying nights towards earning your next Elite Status. Marriott Bonvoy had already extended all elite member's status 12 more months, until February 2022, but now they are making it 50% easier to earn your next Elite Status. Let's see exactly what you should have earned based on your current status.
Marriott Bonvoy 50% Bonus Elite Nights
Silver Elite members earned 5 Elite Nights
Gold Elite members earned 13 Elite Nights
Platinum Elite members earned 25 Elite Nights
Titanium Elite members earned 38 Elite Nights
Ambassador Elite members earned 50 Elite Nights
Marriott Bonvoy Elite Status Night Requirements
These Elite Night requirements must to be reached within a calendar year
Silver Status: 10 Elite Nights
Gold Status: 25 Elite Nights
Platinum Status: 50 Elite Nights
Titanium Elite Status: 75 Elite Nights
Ambassador Elite Status: 100 Elite Nights + $20,000 annual qualified spend
For more details on Marriott Bonvoy Status click here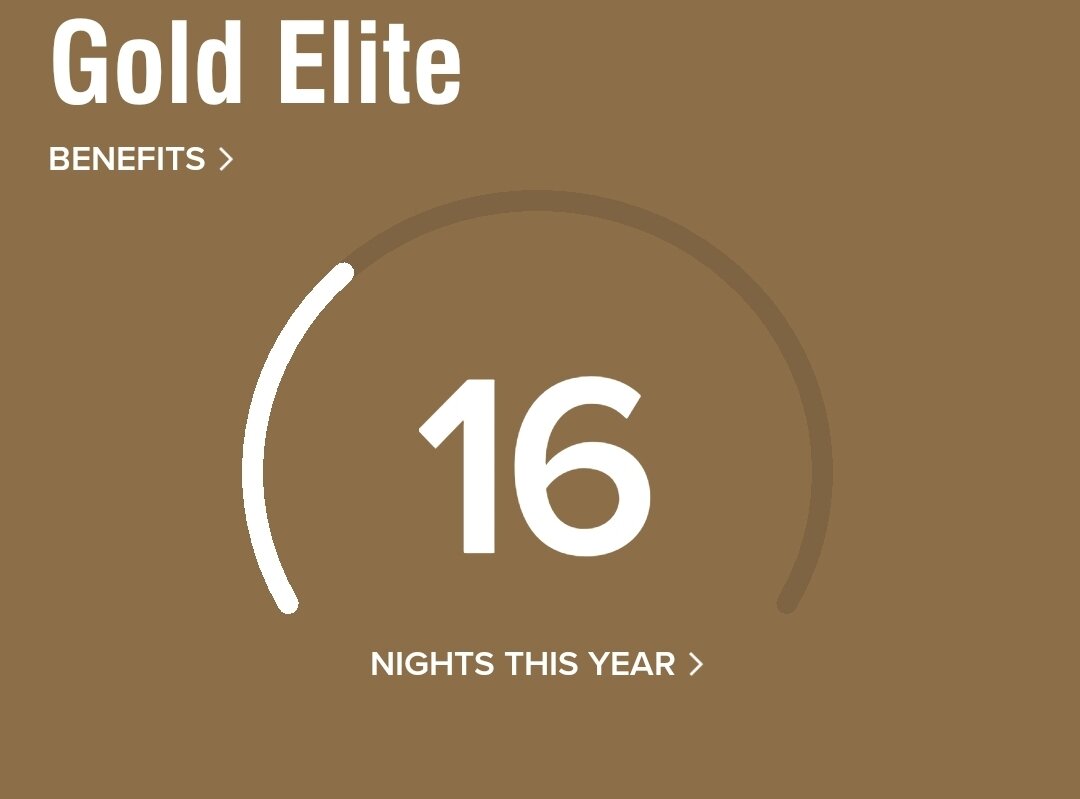 For example, I (Alex) am currently sitting at Marriott Bonvoy Gold Elite Status. Thanks to this 50% bonus, I received 13 additional Elite Nights toward the 25 I would need to earn Gold Elite Status again. Luckily, I have complimentary Gold Elite Status thanks to my Platinum Card from American Express. It is good to know that despite not having earned Gold Elite Status myself, I was still awarded the 13 free Elite Nights bonus. As you can see my Elite Night Count is at 16, despite only having 3 Elite Night stays for 2020 so far (which was paid for with points).
Chris is currently a Platinum Elite, so he has received 25 additional Elite Nights toward the 50 Elite Nights he would need to reach to earn Platinum Status again.
How to Optimize this 50% Elite Nights Bonus
Earning your Marriott Bonvoy Elite Status will be 50% easier for everyone. The 50% bonus is a double edged sword because more people will have status making it harder to get upgrades due to the increased competition. If possible, you may want to aim for an even high status to increase your odds of that sweet complimentary upgrade upon arrival.
One of the easiest, cheapest and fastest ways to add Elite Nights to your account is considering a Marriott Bonvoy credit card which offers 15 Elite Nights annually. This benefit is as simple as can be, all you need to do is become a card member and 15 Elite Nights will be awarded toward your account. Currently there are only 4 credit cards that award you 15 Elite Nights:
Chase Marriott Bonvoy Boundless ($95 AF)
Chase Marriott Bonvoy Bold (No Annual Fee)
These credit card issued 15 Elite Nights are so valuable because if you were to earn them yourself at even some of the lowest category Marriott Bonvoy properties you would be spending an average of $100/night costing nearly $1,500 or more. If you consider these costs plus all the card benefits, annual fee nights, statement credits, and perks you can see how a credit card, even with an annual fee, would be the cheapest route to a higher Marriott Bonvoy Elite Status.
Unfortunately, there is a catch with the personal Marriott Bonvoy credit cards; you can only earn the 15 Elite Nights from one single personal card. This benefit does not stack for personal cards. For example if you had both the American Express Marriott Bonvoy Brilliant and the Chase Marriott Bonvoy Bold, you would only get 15 Elite Nights, not 30.
There is a caveat when it comes to having both a Marriott Bonvoy business credit card and Marriott Bonvoy personal credit card though! If we look at the Marriott Bonvoy Business American Express Card and check the terms and conditions, specifically under the "15 Elite Night Credits" benefit, you might be surprised what you see:
Per these terms, holding a single Chase, or American Express personal Marriott Bonvoy Card will earn you 15 Elite Nights. Then, you can earn an additional 15 Elite Nights from holding the Marriott Bonvoy Business American Express, which brings your total of free Elite Nights to 30!
In my case, since I was Gold Elite Status in 2019, I received 13 Elite Nights. If I were to get the a personal Marriott Bonvoy Card, that would award me 15 more Elite Nights. If I were to then get the Marriott Bonvoy Business American Express, I would be awarded another 15 Elite Nights. Adding up all the Elite Nights awarded form the 50% bonus and 30 total Elite Nights from credit cards, I would be at 43 nights, just 7 nights away from Platinum Elite Status. The total cost to me could be as low as $125 for the Marriott Bonvoy Business American Express annual fee, since the Chase Marriott Bonvoy Bold has no annual fee. Marriott Bonvoy Business American Express offers an annual free night certificate, which counts toward status. The remaining cost to you would only be the remaining night stays, which could also be purchased with Marriott Bonvoy points, making the cost for your next Elite Status nearly nothing!
Bottom Line
Marriott Bonvoy's generosity during this difficult time is extremely exciting and certainly encourages their customers to go stay at their properties. The combination of the Elite Status extensions to February 2022 as well as the 50% Elite Nights bonus makes gaining status super attainable for most, especially when consider the credit card bonus options available.
Our question for you is: How many Elite Nights were you awarded from this 50% bonus? Let us know by commenting down below, by DMing us on Instagram, or by messaging us on Facebook!